The Institut Pascal can host around 60 working guests that will occupy 9 single offices, 17 shared offices and 4 collaboration rooms organised around large meeting areas. A state-of-the-art equipment has been installed in multiple spaces combined with a Zoom Room system, to enable collaborations/exchanges/discussions in remote/hybrid mode.
All the office spaces contain a computer screen and have Wi-Fi and LAN internet access.
The Institute is equipped with photocopy machines, a kitchenette, coffee machines, a microwave and a refrigerator.
The Institut Pascal also shares several facilities and communal rooms with 2 physics laboratories, including a library, a reception hall, two amphitheatres and a shower facility.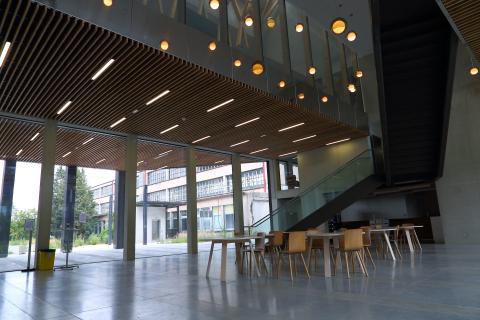 Collaborative areas and workspaces
This large common space, hearth of the Institute, is mainly dedicated to non-formal interactions between participants.
The room has been equipped with a portable DTEN7 screen. This touch screen with shared whiteboard functionalities, combined with a special microphone, allows remote participants to engage in informal exchange and promote the spontaneous outbreak of discussions.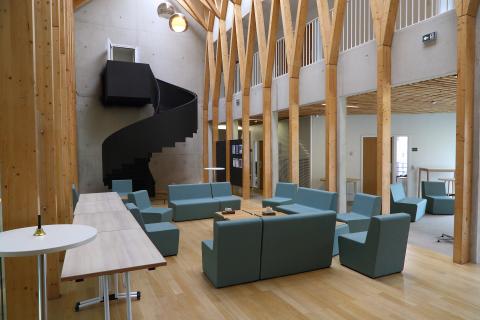 70 and 120 places
The Small Amphitheatre equipment has been recently improved: In its new configuration, a PTZ camera, which follows the speaker when he freely moves while presenting, as well as 2 large screens, which makes it possible to show and interact with 100 remote participants simultaneously at the back of the room, plus a dedicated videoconferencing computer and a remote complete the equipment.
The Big Amphitheatre is already equipped with all the classic conferencing tools (a projector, microphones, amplifiers, etc) and it will be soon renovated along the lines of the Small Amphitheatre.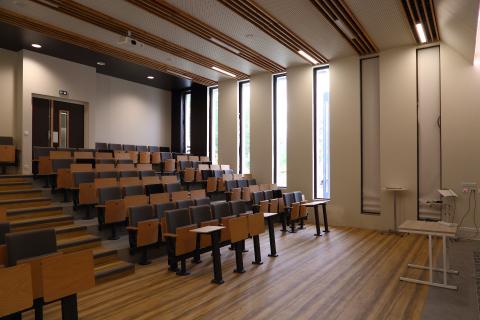 I107, I203, I217
These rooms have been transformed into a new kind of space especially sets up to facilitate remote interactions. In these rooms we have installed: a large screen which allows to have a view of all the people engaging in the discussion; a large connected whiteboard which can be shared and can show remote contributions; finally, a videoconferencing computer, a remote and an efficient audio system complete the equipment.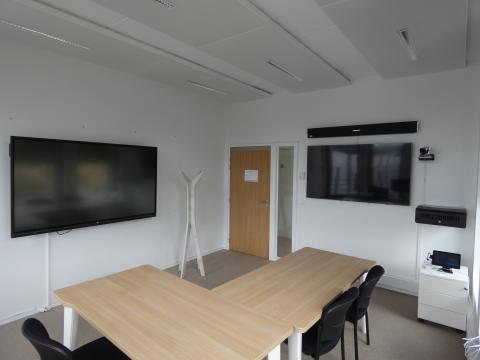 All our offices have natural lights and a modern design with equipped desks and additional chairs and tables for discussions. 
Up to four offices can be simultaneously equipped with an innovative portable solution called DTEN ME. This tool consists of a portable screen especially created for videoconferencing. This is a great option for smaller groups.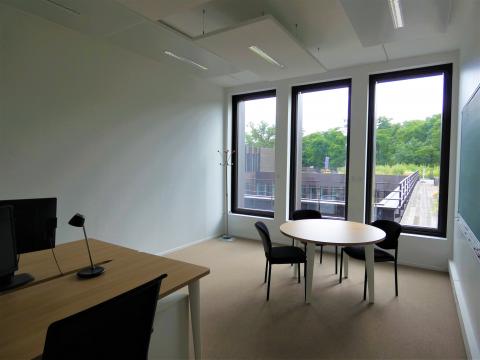 Two terraces are available in the Pascal building.
A rooftop one, the largest, which allows the organisation of social gatherings, lunches and outdoor discussions and a smaller one on the first floor, which is more intimate and easily accessible from the Cathedrale.